Below is a list of the top and leading best Nashik surrounding tourist places for weekend. To help you find the best Nashik tourist places located near you, we put together our own list based on this rating points list. You deserve only the best Nashik nearby places!.
This article is updated every 1-2 months.
Best places to visit near Nashik:
The top-rated best places near Nashik are:
Shirdi Sai Baba Mandir
Bhandardara
Ellora Caves / Verul Leni
Igatpuri
If you know other Best Place to Visit Near Nashik that should be on this list, please submit your details here and we will review your submission.
1. Shirdi Sai Baba Mandir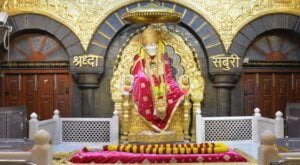 Shirdi is a small town in Maharashtra. It is known to be an important pilgrimage site for the followers of Shri Sai Baba. Less people know about the pleasant climate of Shirdi, which is almost constant throughout the year.
Shirdi is home to the shrine of Shirdi Sai Baba, which is the main attraction for the devotees who visit this holy shrine. This is one of the must include places in Maharashtra tour packages. Sai Baba, who belonged to 20th century, is known as one of the greatest saints of India. Sai Baba visited Shirdi when he was 16 years old and stayed there until his death in 1918. Sai Baba transformed this small village into a holy pilgrimage site for his devotees.
The Shirdi temple complex covers an area of about 200 square meters. It includes Gurusthan, Samadhi Mandir, Dwarkamai, Chavadi, and Lendi Baug. Shirdi Temple is one of the richest temples in India with estimated donations of INR 4 billion per annum. Shirdi Sai Baba Temple is one of the best tourist places near Nashik. In the next article, we will also provide you with information about the surrounding tourist places in Shirdi. If you're planning a visit to Shirdi from Pune and looking for a convenient transportation option, you can consider Pune to Shirdi taxi services. With reliable and comfortable taxi services available, you can enjoy a smooth and hassle-free journey from Pune to Shirdi. So, get ready to embark on a spiritual and enriching experience at the revered Shirdi Sai Baba Temple and explore the beautiful attractions that surround it.
Address: Mauli Nagar, Shirdi, Maharashtra 423109
---
Contact No: +912423258500
---
Website: www.sai.org.in
2. Bhandardara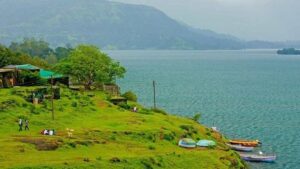 Bhandardara is situated at an altitude of 750 m on the banks of river Pravara. According to a legend, sage Agastya meditated here for a year. Pleased with his penance, Gods blessed him with a stream of river Ganga, now known as river Pravara. This tiny hill station is a blend of natural beauty, waterfalls, mountains, tranquility, greenery, refreshing air and pristine ambiance.
It is an excellent place for trekkers and a popular stopover for tourists travelling to Nashik and Shirdi. It attracts a lot of tourists every year because of its eco-tourism opportunities. Important places to visit in Bhandardara are Arthur Lake, Randha Waterfalls, Umbrella Falls, Bhandardara Dam or Wilson Dam and Amruteshwar Temple.
Address: Bhandardara भंडारदरा Maharashtra 422604
3. Ellora Caves / Verul Leni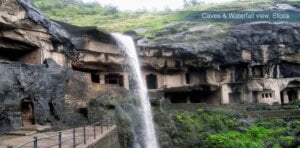 The Ellora Caves are an impressive complex of Buddhist, Hindu, and Jain cave temples. The caves have a slightly less dramatic setting than those at Ajanta, but more exquisite sculptures. The cave complex comprises 34 caves that were hewn out of solid rocks of the Charanandri hills. Of these, 12 caves belong to the Buddhist sect, 17 were Hindu and 5 were Jain Caves. Caves 1 to 12 are Buddhist monasteries, chaityas, and viharas, while caves 13 to 29 are the Hindu temples.
Dating back to the 9th and 10th century, Caves 30 to 34 are the Jain shrines. The coexistence of structures from three different religions serve as a splendid visual representation of the prevalent religious tolerance of India.
Locally known as 'Verul Leni', these caves are were designated a UNESCO World Heritage Site in 1983. Ellora is one of the top tourist places near Mumbai. The caves at Ellora were carved out of the vertical face of the Charanandri hills between the 6th and 10th centuries AD. The carving work began around 550 AD, about the same time the Ajanta Caves were abandoned. The Ellora Caves were built at a time when Buddhism was declining in India and Hinduism was beginning to reassert itself.
Address: Ellora Cave Rd, Ellora, Maharashtra 431102
Website: www.maharashtratourism.gov.in
4. Igatpuri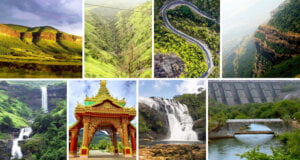 Igatpuri, a popular hill station close to Nashik, is a picture-perfect hill station. With a myriad number of waterfalls, lakes, and hills, Igatpuri makes an ideal getaway for people from all walks of life, especially for hikers and trekkers.
If you have a long holiday plan or just about a weekend break, Igatpuri is a place that is just right for you. The hill station is the choicest destination for nature lovers and people who need the adventure to take their minds off the monotony of city life. Encircled by some of the tallest peaks of the Sahyadri mountain ranges, adorned with some of the marvels of wild nature and dotted with ancient temples and fortresses, Igatpuri makes for a great holiday trip.
Igatpuri is located in Nashik in the state of Maharashtra. And being a part of the Sahyadri hills, Igatpuri offers an alluring and bewitching experience of nature's most gifted region. Surrounded by waterfalls, dense forests, and dam alongside lakes; Igatpuri is a must-visit. If you seek a quaint, rejuvenating vacation, then this hill station is a perfect destination for you. Also, you can visit Lonavala and Khandala on the way to Igatpuri.
Address: Igatpuri इगतपूरी, Maharashtra