If you find yourself to be in a situation where finding the best Nashik Thali restaurants list gets difficult, then we are here to help you out with this. Below is a list of the Best thali restaurants in Nashik. To help you find the best thali located near you in Nashik, we put together our own list based on this rating points list which includes customer reviews, history, complaints, ratings, satisfaction, trust, cost and their general excellence and so on. You deserve only the best thali in nashik !.
This article is updated every 1-2 months.
Nashik's Best thali:
The top rated Hotels in Nashik City are:
Shree Rajbhog Thali
Hind Kesari Non Veg Special
Purohit Thali Restaurant
Panchavati Gaurav
Are you one of them? Let us create a full business page, click here.
If you have a thali restaurants Nashik or you know other thali in Nashik Maharashtra that should be on this list, please submit your details here and we will review your submission.
1. Shree Rajbhog Thali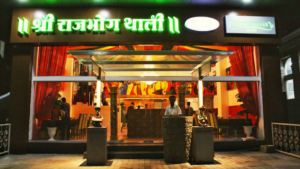 Shree Rajbhog Thali Nashik is a top player in the category Pure Veg Thali in Nashik. This well-known establishment acts as a one-stop destination servicing customers both local and from other parts of Nashik. Over the course of its journey, this business has established a firm foothold in it's industry.
In Nashik, this establishment occupies a prominent location in Mumbai Naka. It is an effortless task in commuting to this establishment as there are various modes of transport readily available. It is at , Beside Kalika Temple, Near Sandeep Hotel, which makes it easy for first-time visitors in locating this establishment
A journey through authentic vegetarian cuisine of Rajasthan, Gujarat and Jain. Shree Rajbhog Thali is the Vegetarian Thali Restaurant which is the flagship brand of Curry Leaves Group. They have spread its aroma in this industry over the past few decades. Known as "Thali Palace" with delicacies flavor of novelty from Rajasthan and Gujarat. Their commitment for authentic and hygienic food, good service with unlimited delicious 28 items including sweets and welcome drink. Their service and food quality has made is the best thali restaurant in nashik. Come to Shree Rajbhog Thali and experience the Royal Taste of Tradition. Rajbhog thali Nashik price started from ₹800 for two people (approx.).
Address: Near Hotel Sandeep, Besides Kalika Mandir, Mumbai Naka, Nashik, Nashik, Maharashtra 422001
---
Contact No: +919011198765
---
Website: Click Here
2. Hind Kesari Non Veg Special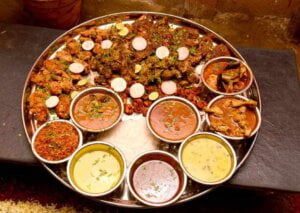 Hotel Hind Kesari thali Nashik is a top player in the category Restaurants in the Nashik. This well-known establishment acts as a one-stop destination servicing customers both local and from other parts of Nashik. Hotel Hind Kesari servicing one of the best non veg thali in nashik.
The belief that customer satisfaction is as important as their products and services, have helped this establishment garner a vast base of customers, which continues to grow by the day. Hind kesari thali Nashik price started from ₹500 for two people (approx.).
Address: Makhmalabad Rd, gopal nagar, Matori, Nashik, Maharashtra 422003
---
Contact No: +917998370370
---
Website: www.hindkesarihotel.com
3. Purohit Thali Restaurant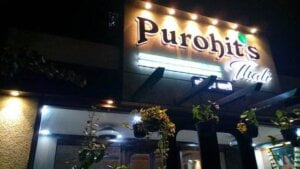 Purohit Thali Nashik, Maharashtra Established in the year 1977, this place is synonymous with delicious food that can satiate all food cravings. It is home to some of the most appreciated cuisines which include Gujarati,Marwadi,Pure Veg,Indian. So as to be able to cater to a large number of diners, it occupies a favourable location at Bytco Point. C/O Avanti Hotel,Nashik Road,Bytco Point-422101 is where one can visit the venue.
Purohit Thali Nashik road at Bytco Point makes sure one has a great food experience by offering highly palatable food. It is one of the most sought after Restaurants in Bytco Point. This is a one of the renowned Restaurants in Nashik.
Address: bus stop, Andhashala, Nashik – Pune Rd, Nashik, Maharashtra 422101
---
Contact No: +912532463407
4. Panchavati Gaurav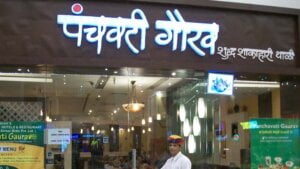 Panchavati Gaurav , the Flagship Brand of Panchavati Group, serves 100% Pure Vegetarian Gujarati & Rajasthani Cuisine in the form of unlimited Thali. Panchavati Gaurav is the ultimate choice for family get-togethers, occasions or for celebrating any festival. When it comes to Rajasthan and Gujarat, other than diverse characteristics and agricultural economy, food holds its own unique identity!. Hotel panchavati nashik thali price is very affordable to everyone.
The cuisine of Rajasthan & Gujarat is primarily vegetarian and offers a fabulous variety of mouthwatering dishes. Rajasthanis use ghee for cooking most of the dishes. Rajasthani food is well known for its spicy curries and delicious sweets. Whereas, Gujarati Cuisine is more towards the sweeter side and is rich in flavor. Hotel panchavati serve best gujarati thali in Nashik.
Address: 430, Vakil Wadi, Raviwar Karanja, Panchavati, Nashik, Maharashtra 422001
---
Contact No: +917755909149
---
Website: www.panchavatigaurav.com