Misal pav is loved and had by everyone in Maharashtra where Nashik is known for its unique Misal Pav dishes. There are different varieties of Misal pav like Kolhapuri Misal, Nashik Misal, Puneri Misal, Khandeshi Misal and Nagpuri Misal among which the Nashik Misal is most trendy one so far. Nashik is every so often starred as the Misal capital.
It consists of Misal (a Spicy curry usually made of sprouted moth beans) and Pav. The final dish is topped with 'Farson' or 'Shev', onion, lemon and coriander. This piquant and mouthwatering breakfast dish is habitually served with buttermilk or curd and papad.
In a quest to savor the finest Misal Pav in Nashik dishes ever, here we present you a roll of famous misal in nashik, Must-Visit famous misal pav in Nashik.
Below is a list of the top and leading Misal in Nashik. To help you find the best Misal located near you in Nashik, we put together our own list based on this rating points list.
This article is updated every 1-2 months.
Nashik's Best Misal:
The top rated Misal in Nashik are:
Tushar Misal
Sadhana Misal
Mamacha Mala
Are you one of them? Let us create a full business page, click here.
If you have a Misal business or you know other misal in Nashik that should be on this list, please submit your details here and we will review your submission.
Tushar Misal

Tushar Misal offers delicious dining, takeout and delivery to nashik, Tushar Misal is a cornerstone in the our community and has been recognized for its outstanding Tushar Misal, excellent service and friendly staff. They Provide best misal pav in nashik. Our Tushar Misal Nashikrestaurant is known for its modern interpretation of classic dishes and its insistence on only using high quality fresh ingredients. Hotel Tushar Missal is serving the Nashikkars from Past 51 years with authentic Maharashtrian Misal Pav Nashik. They believe in delivering best services, quality and taste when it comes to Missal.
Address: 1, 3, College Rd, Patil Colony, Canada Corner, Nashik, Maharashtra 422005
---
Contact No: +919960808888
---
Website: www.tusharmisal.com
Sadhana Misal

Sadhana Misal has been serving Nashik delicious Chulivarchi Misal Since 1959. Sadhana Misal Nashik are know to serve one of the best Chulivarchi Misal in Nashik. Sadhana Chulivarchi Misal, one of the oldest food places in Nashik, is famous for its delicious Misal Pav. Sadhna Misal Nashik was first set up in 1959 at Chowk Mandai, Old Nashik. Misal has always been the most favorite breakfast in Maharashtra and our specialty is Chulivarchi Misal Nashik ® (Misal Pav cooked on wood fire). The Sadhana Misal in Nashik has rural village ambience, with hut style architecture, khaat seating and open area among trees and plants. There are Bullock cart, Horse and Camel rides for recreational activities. Apart from Misal, we serve Gulachi Jilebi (Jilebi cooked in Desi Ghee and Jaggery syrup), Buttermilk, Solkadhi, Lassi and Chulivarcha Icecream (Pot icecream made from pure milk boiled over Chulha)
Address: Hardev Baug, Gangapur – Satpur Link Rd, near Someshwar, Bardan Phata, Nashik, Maharashtra 422222
---
Contact No: +918048067352
---
Website: www.sadhanamisal.com
Mamacha Mala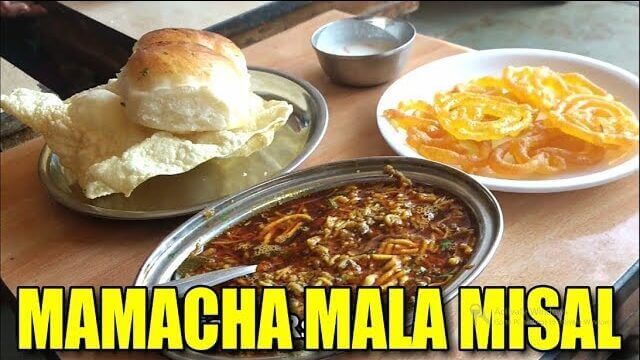 Mamacha Mala perfect for its delicious Misal, is moreover famous for Jalebis. Based on a village-setting, this is a real good place to be visited in weekends with family. The Mamacha Mala Misal situated in Makhmalabad-Mahsrul link road, will most of all, let you enjoy your Misal in a peaceful environment as is positioned in decentralized area.
Address: MHSH26, Matori, Nashik, Maharashtra 422003
---
Contact No: +919823589999
---
Website: Click Here
So, these are some of the hotels famous for Misal and have created their distinct name by delivering great services. Do visit these places in weekends with your family enjoying tastiest Misal Pav.