Nashik is an ancient city in the state of Maharashtra. There are many temples, caves, and sites of historical importance to visit here. If you have only one day to spend in Nashik, you can visit the places like Muktidham, Pandit Jawaharlal Nehru Botanical Garden, Pandavleni caves, Sita Caves, Kalaram Temple, Someshwar Waterfalls, and Ramshej Fort, etc
Nashik is a holy city in Maharashtra, around four hours away from Mumbai. The mighty river, Godavari, has its origin in Nashik. Over the past decade, emerged as the premier vineyard destination in India, with the majority of domestic wines being produced there.
Nashik is an interesting city for all those who love mountains and mountaineering. Nashik is often overlooked due to the nearby great cities of Pune and Mumbai. But you must try some treks here whether or not you are into mountaineering. These are some of the best places to visit near Nashik.
Below is a list of the top and leading tourist places in nashik for weekend. To help you find the best Places to Visit located near you in Nashik, we put together our own list based on this rating points list.
This article is updated every 1-2 months.
Nashik's Best Places to Visit:
The top rated Nashik tourist places are:
Sula Vineyards
Pandavleni Caves
Harihar Fort
Are you one of them? Let us create a full business page, click here.
If you know other Best Places to Visit in Nashik that should be on this list, please submit your details here and we will review your submission.
1. Sula Vineyards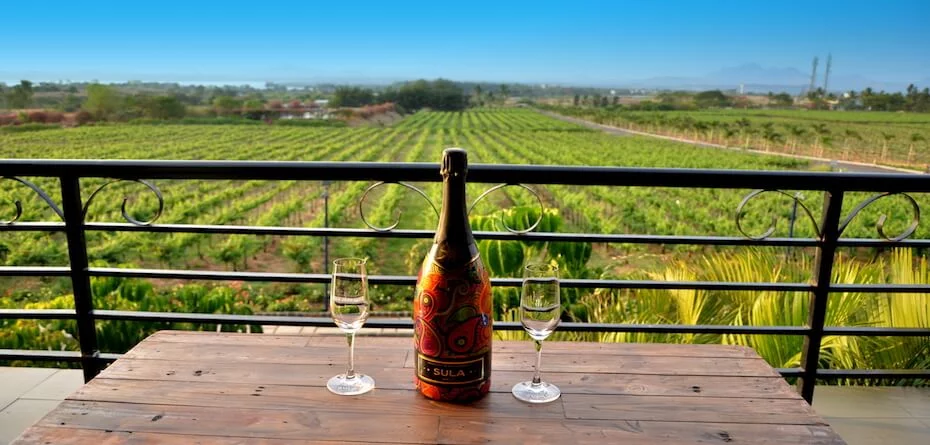 Sula Vineyards – At a distance of 12 km from Nashik Central Bus Station, Sula Vineyards is the famous Indian winery located in Nashik. The Nashik region is known as the 'Wine Capital of India' and is home to almost 50 wineries.
Sula Vineyards is a perfect weekend getaway from Mumbai, Pune and a good day trip form Nashik. The winery and vineyards are open to the public for educational tours. As part of their wine tourism venture, Sula operates a tasting room, 2 restaurants Little Italy & Soma, a 35-room resort Beyond by Sula, and an amphitheater at their Nashik estate. The wine tour is a 45 minutes tour where visitors can see the actual process of wine production. Travellers will also get to taste 4 wines at Sula Vineyards.
Sula Vineyards is one of India's leading wineries and is located in Nashik. Sula offers group and personalised wine tours at their premises. The wine tours are very informative and a lot of fun. If you can, then go for a personalised wine tour to enjoy the vineyard at your own pace.
Address: Gat 36/2, Govardhan Village, Off, Gangapur-Savargaon Rd, Nashik, Maharashtra 422222
---
Contact No: +919970090010
---
Website: www.sulawines.com
2. Pandavleni Caves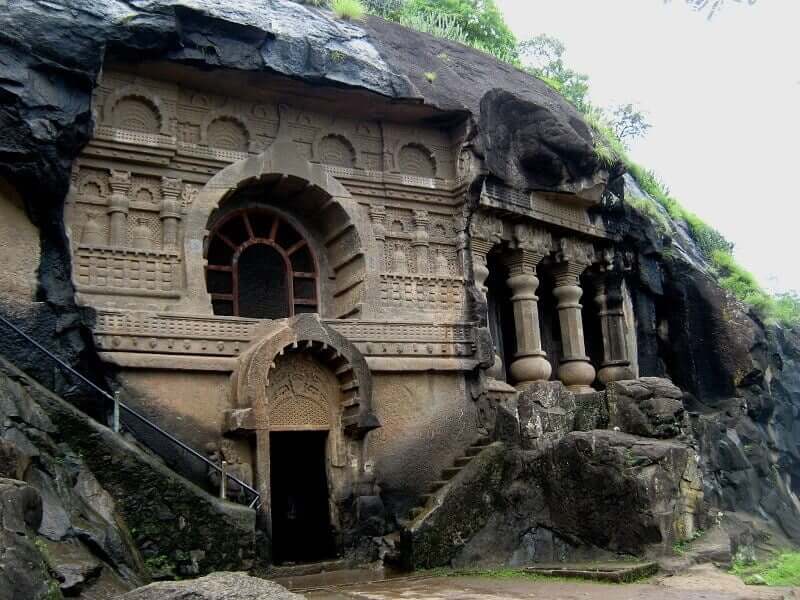 Pandavleni Caves – At a distance of 8 km from Nashik Central Bus Station, Pandavleni Caves or Trirashmi Caves are the ancient rock cut caves situated on Trirashmi Hills to the south of Nashik. The location of the caves is a holy Buddhist site in Maharashtra and also one of the famous places in Nashik.
Considered sacred by Buddhists, the caves are located about 8 kilometres south of the centre of Nashik. Pandavleni Cave is a group of 24 caves that were carved between the 1st and 3rd century BC, representing the Hinayana Buddhism and has nothing to do with the characters of Mahabharata (the Pandavas).These caves were built by the rulers of that time like Satavahanas and Kshaharatas for Hinayana Buddhist monks. More ancient name of caves is Trirashmi Caves where the root 'Trirashmi' means 'triple royal'.
There are about 300 steps that take you all the way to the top of the hill to explore these caves with their centuries-old inscriptions and carvings.
Address: Pandav Lene Rd, Buddha Vihar, Pathardi Phata, Nashik, Maharashtra 422010
3. Harihar Fort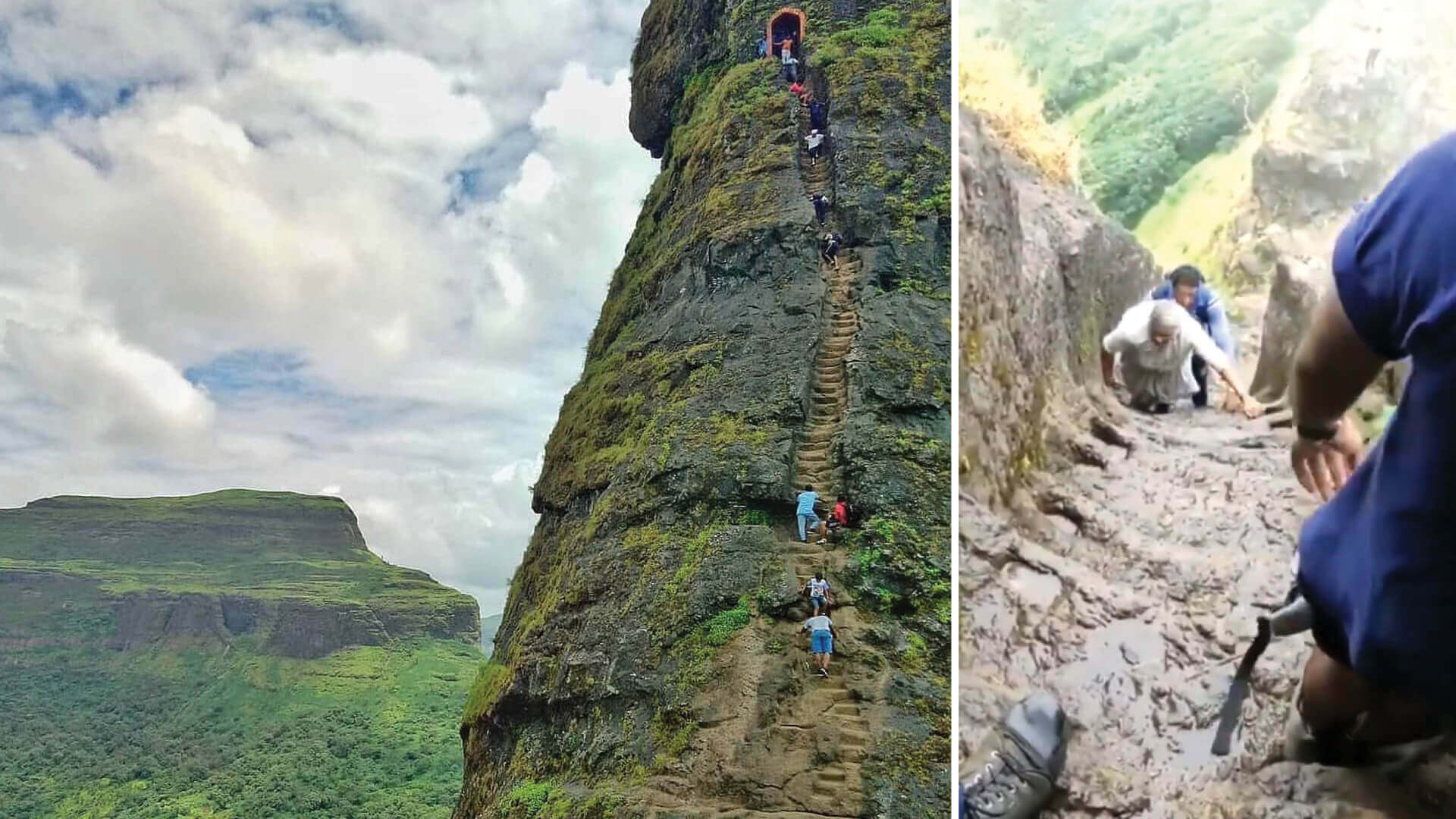 Harihar Fort – At a distance of 22 km from Trimbakeshwar and 45 km from Nashik, Harihar Fort or Harihargad is a small hill fort in Upper Vaitarana range near Trimbak in Nashik district of Maharashtra. Also known as Harshgad or Harishgad, the fort is one of the popular monsoon trekking places near Nashik.
Harish Fort was one of the forts in the possession of the Ahmadnagar Sultans. It was visited by Captain Briggs in 1818 AD. In 1636 CE, Harishgad, Trimbakgad, Tringalwadi and few other forts were given by Shahaji to the Mughals. Harishgad was one of the 17 strong places that surrendered to the British on the fall of Trimbak in 1818 CE.
Nirgudpada is the base village for Harihar Fort trek, which is about 22 km from Trimbakeshwar. Visitors need to trek 4 km from the base village in order to reach the Harihar Fort. It is a moderate trek and it takes 2 hours to reach the top of the fort.
Address: Harihar Fort, Nashik, Maharashtra 422001
So, these are Top Nashik places to visit. Do visit these places in weekends with your family and enjoy!. It is also, perhaps, the top city to visit in India if you're interested in wines. The collection of top quality wineries and vineyards makes Nashik an absolute must visit the place. We hope you have fun visiting the beautiful city of Nashik.