Preface
Shopping for a new wig can be enjoyable, especially when you have the right information and know what you're looking for. Luvme Natural hair wigs are a great choice if you want to change your look. Deciding which wig to buy can be tricky. If you've been interested in lace front wigs or are just exploring options, this guide will cover all the basics of Luvme frontal lace wigs in a simple and easy-to-understand way.
Table of Contents
Introducing Luvme Hair Lace Front Wigs
What is a Lace Front Wig?
Types of Lace Front Wigs
Benefits Of A Lace Front Wig
How to install Luvme Lace Front Wig?
Conclusion
Introducing Luvme Hair Lace Front Wigs
The Luvme Hair Lace Frontal Wig is a human hair wig with a pre-plucked hairline, 13×6 lace frontal lace straight, and 18 inches of length. Its lace provides a natural appearance and blends well with your hairline. The hair is soft with minimal shedding and can be worn without glue. Some customers find the cap size too large and experience unevenness, making it challenging to wear the wig evenly.
What is a Lace Front Wig?
A lace front wig is made with hairs that are carefully tied to a thin, see-through lace material along the front edge of the wig. This method creates a hairline that looks incredibly natural, making it seem like the hair is growing directly from the scalp.
10 Types of Lace Front Wigs
When picking a lace wig, consider the variety in colors like black, brown, blonde, red, and white. Choose a color that matches your skin tone and natural hair color. Understand your hair type and the wig fabric's thickness. Opt for a comfortable wig; most have adjustable straps for a good fit. The wig should neither be too tight nor too loose. Select a style that suits you best.
Here are ten types of lace wigs:
Basic Cap Wigs
Open Cap Wigs
Monofilament Wigs
Lace Front Wigs
Full Lace Wigs
Hand Tied Wigs
Combination Wigs
Skin Top Wigs
Synthetic Hair Wigs
Wigs By Length
Benefits Of A Luvme Lace Front Wig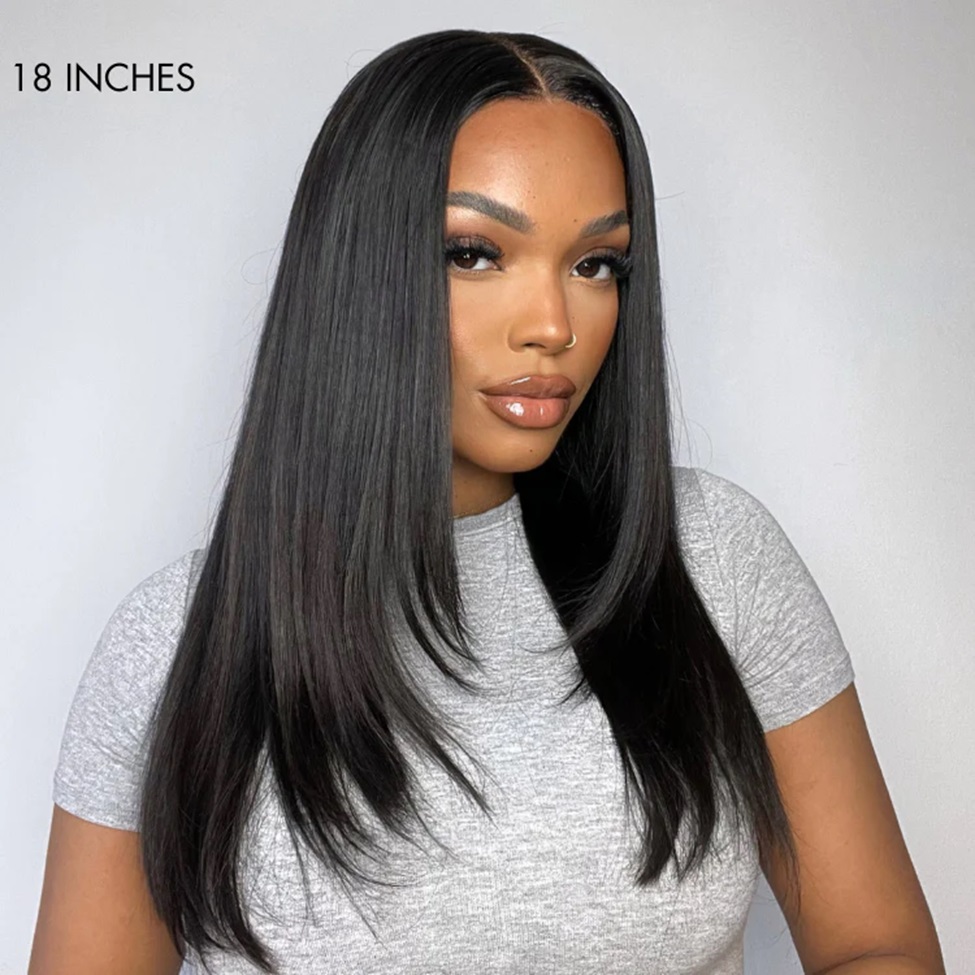 Luvme Lace front wigs offer several benefits:
Breathable Design: Luvme Lace Front Wigs allow air to reach your scalp easily, making them comfortable to wear.
Ideal for Thinning Hair: They are perfect for individuals with thinning hair, covering bald areas effectively.
Versatile Styling: These wigs provide a realistic look and can be styled in various ways, such as side parts, braids, ponytails, or buns. You can even change the parting without compromising the natural hairline.
Color Variety: You can experiment with different hair colors without damaging your natural hair.
Natural Appearance: Unlike sew-in styles that require attaching to the scalp, lace front wigs offer a natural look without harming your hairline.
Longevity: With proper care, lace front wigs can last up to a year. Storing them on a synthetic head or in a satin bag helps prevent frizz and tangles.
How to install Luvme Lace Front Wig?
You can wear a Luvme lace front wig in different ways, like using tape, elastic bands, or glue. If you opt for glue, ensure you choose the right adhesive made for lace fronts.
Don't use things like lash glue or craft glue. Before putting on your wig, do a skin test a day in advance to check for any allergic reactions. Dab a bit of liquid adhesive or wig tape on your hand and watch for any adverse effects.
To wear a Luvme lace front wig without glue, follow these simple steps:
What You'll Need:
Adjustable elastic band
Lace wig cap
Comb
Scissors
Clips
Hair mousse
Silk scarf
How to Wear a Lace Front Wig Without Glue:
Start by cleansing your skin gently and wiping some alcohol along your hairline to remove excess oils.
Braid your hair into cornrows and wear a wig cap to flatten your hair and secure the wig. Ensure all your hair is tucked under the wig cap, from the front to the nape of your neck.
Test the wig's fit by placing it on your head and aligning it with your natural hairline. Adjust the elastic band if it's too loose or too tight on your scalp.
Once you're satisfied with the fit, trim off any excess lace from the wig.
Use clips to pull the hair away from your face, and trim the lace along your hairline with sharp scissors.
If your wig hasn't been plucked, you'll need to tweeze it, bleach, and tint the knots to match your natural hairline and skin tone.
Create baby hair by cutting some strands at the hairline into smaller sections and gently pulling them out for a more natural look. Lay out the part you desire with water and mousse.
Tie a silk scarf over the edges to set it in place.
Finally, comb and style your hair as you like.
Conclusion
Luvme Hair Wigs is well-known for its top-quality lace wigs available online. The brand takes pride in offering high-quality hair and excellent customer service. Each purchase, including those made during their enticing Black Friday wig sale, is aimed at making customers feel beautiful and confident. They provide various options, including headband wigs, undetectable lace, glueless wigs, and dyed and pre-plucked wigs, catering to different preferences. By following specific steps and using the right tools, you can install a lace front wig without glue, ensuring a natural and secure fit suitable for any occasion.