The necessity of English Medium School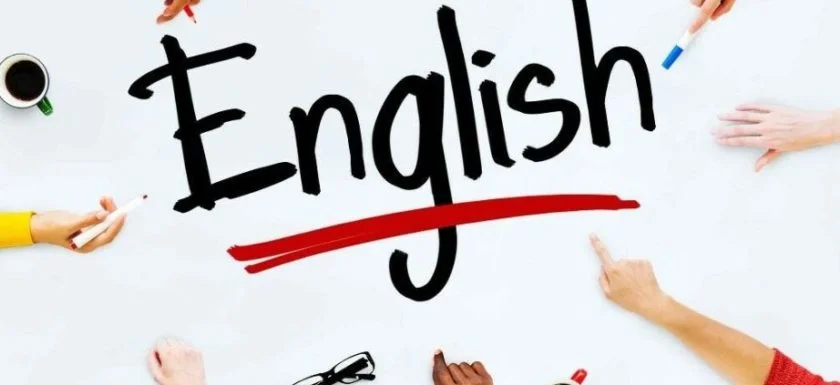 English is the language of International Communication; around 400 million people are across the globe speak English. If you want to access globally, then learn English.
Now it has become imperative to educate children through English Medium, And most of the parents look for Top-ranked English medium Schools for their kids to ace both in speaking and writing English.
They want their children to get adequate English learning space so that they don't have to bother in the future for English Communication skills, and it will count as the most significant advantage in career scope in the future.
Even if your children want to connect with the rest of the world to communicate, it is indispensable that you know how to speak and write English. as well as without knowing the English language, your children can't progress with the rest of the world.
So children need to get Education in English Medium School. Every parent in today's time is concerned about a good English Medium School for their children. More than 300+ English Medium schools in Jaipur.
Now the dilemma for parents is how they select School for their children as well as they are supposed to choose a school that can provide the best English Medium learning. So that students can grow in terms of knowledge and Education.
VSI International school is always steadfast in providing the best learning strategies to enhance English knowledge.
An Introduction to English Medium School- VSI International school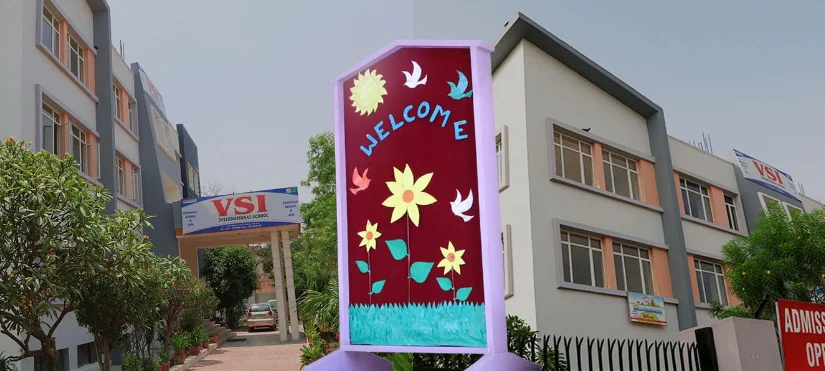 VSI International school is Top Ranked English medium School in Jaipur. It has modern infrastructure, child-centered teaching techniques, and English to English learning techniques with a secured and organized environment for students to explore, learn, and grow.VSI International is a school in Jaipur that has a large number of students.
It was founded by bluebells Shiksha Samiti in 1979. And the director of the school is Mr. R.C Sharma, a renowned Chartered Accountant of Jaipur.
VSI International School is a co-educational English medium school affiliated with the Board of Secondary Education Rajasthan. The School is situated at Pratap Nagar, Sanganer, Jaipur, Rajasthan. It is also Awarded in 2017 as the "Emerging School of the Year" award by the Honorable Minister of Rajasthan.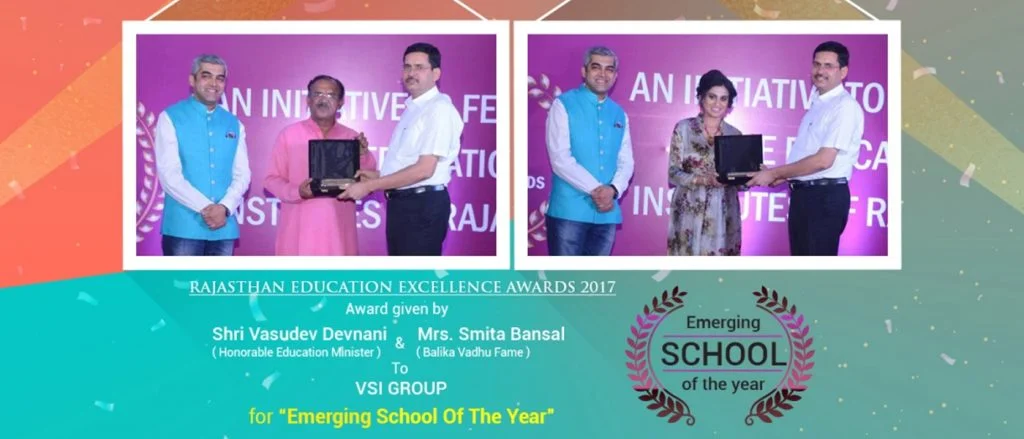 Academics of English Medium VSI International school
VSI International has classes from playgroup up to XII class ( Arts, Science,& Commerce).
Which is divided into four wings
Play Group; toddlers in this group are two years old up to three years old.
Pre-primary that has Nursery, K.G., and preparatory classes and the students' age are three years old up to 5 years old.
Junior wing has classes from me up to VIII, and the age of students is five years up to thirteen years old.
Senior wings that have classes from IX to XII and the age group of the students is Fourteen years old, up to eighteen years old.
Learner-centered Curriculum of VSI English Medium School
The curriculum of the School prioritizes all fields like Academics, Sports, Art, Dance, Music, and other co-curricular activities School believes in holistic learning systems. Students can be groomed and developed for this School has included new features in its curriculum like developing language skills, usage of smart classes, etc.
Infrastructural Facilities of VSI English Medium School
VSI International School has a magnificent campus with prominent facilities. The School offers multiple facilities to its students to get an overall chance to grow at full pace. Like
Air conditioner Classrooms
PlayGround
Smart Classrooms
Reader Hub
Maths Lab
Library
Computer Lab
Medical Room
Music Room
Canteen
Activity Room
Laboratory
Sport facilities
Transportation
VSI English Medium School not only infrastructural facilities but offers other facilities to their students such as.
Secured and Well Organized Atmosphere
The VSI English medium school ensures students' security. A secured atmosphere is most needed by the parents. A significant part of the day children spend in School if School provides a secure environment, then parents remain carefree. And chances of school selection increase.
VSI is very well aware of it, So they leave no stone unturned in students' matters of security. Students remain under the surveillance of CCTV cameras and guards.
VSI provides a clean and well-organized atmosphere for the students—a place Where they can develop skills and increase knowledge.
A school setting's secure and organized environment helps enhance the teaching and learning experience among teachers and students.
Well Qualified and Supportive Staff Members
VSI English medium school has well qualified and caring teaching staff. Their teachers have a substantial influence in shaping personality. And possess all the qualities which cultivate the student's talents and abilities. All they have a problem-solving attitude. They give individual attention to every student. The subject teachers are also experts in their subjects that satisfy the student's queries as soon as possible.
Academics with a blend of Extracurricular Activities
VSI English medium School one of the Academically recommended schools in Jaipur. School is not only the best senior wing, as well as its playgroup, primary and junior branches also have excellent academics records.
School conducts so many activities to nurture their students mentally, physically, and socially. Excellent academic track records and accolades of VSI English Medium school determine its efficiency in term progress.
The School believes in the overall development of its students. Extracurricular Activities help develop skills like leadership, management, social skills, etc., in Students.
And also, participating in creative activities can develop intuitive and intellectual skills in kids. That's why VSI schools organize curricular activities and encourage participation in extracurricular and cultural activities of students.
Fee Structure
The VSI School fee structure is set in a way that every parent can afford it. VSI school believes in Education for all. They do not want any child deprived of Education due to high fees. They maintained quality education at low fees.
Other smart services of VSI English Medium School
VSI offers the best services to its students. Management of VSI school believes that all the children are assumed to be intelligent by birth, provided they are given the proper environment to grow and develop.
Sports
Dance
Smart Classes
Educational Visits
Quiz
Painting
Abacus
Dramatics
Conclusion of the blog
VSI mission and vision is so clear that they want to nurture students' talents and skills and provide a quality education so that they do not need to opt for an option to explore and learn. All these characteristics make VSI a TOP Ranked English Medium School of Jaipur.