Trekking is an exciting way to explore the outdoors and experience nature in its rawest form. It offers an adrenaline rush, and is a great way to get away from the hustle and bustle of city life. Trekking requires physical activity and is an excellent way to stay fit and healthy. It helps in increasing stamina and muscle strength, and also helps in toning the body. Trekking helps in exploring one's inner self and discovering new potentials. It is a great way to break away from the monotony of daily life and explore something new. Trekking is a great way to de-stress and relax. It helps in relieving mental fatigue and improving concentration levels. Visiting trekking places offers a great opportunity to experience nature in its purest form. It helps in connecting with nature and appreciating its beauty. Well Well Well there are whole lot of benefits of trekking lets see some of the best trekking places in Nashik.
Best Trekking places in Nashik
Anjeneri Hills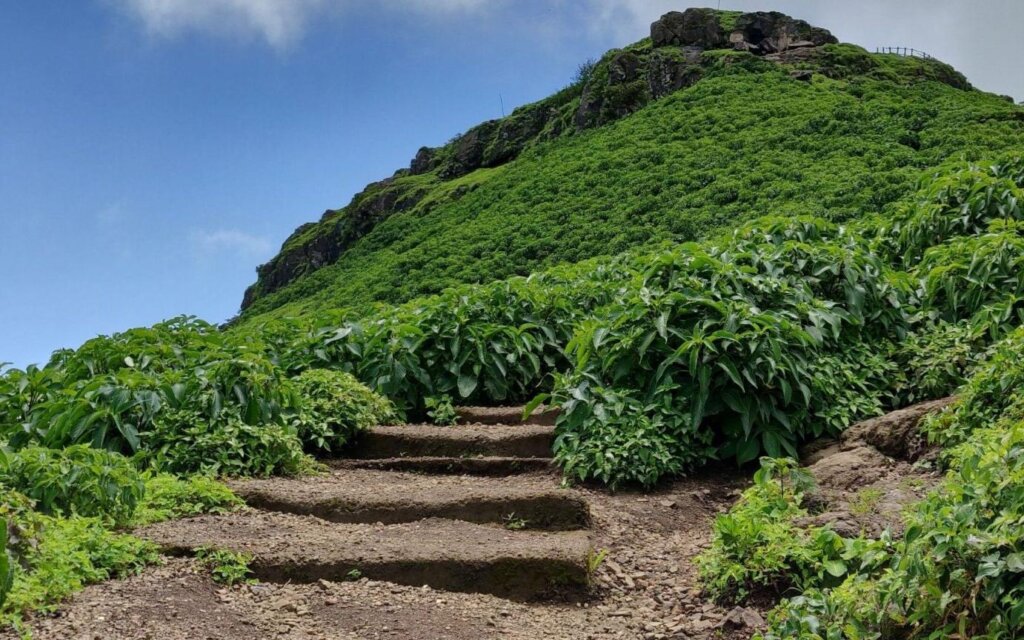 Anjeneri is a hill station situated in Nashik district of Maharashtra state in India. It is located at a distance of about 21 km from Nashik city and is situated at an altitude of 1,476 ft above sea level. It is known for its picturesque beauty and lush green surroundings. Anjeneri is a popular weekend getaway for tourists from Nashik and other nearby cities. It is also known for its temples, trekking trails, and trekking camps. Anjeneri Hills is the Place where Lord hanuman was born.
For enjoying at the fullest you should visit Anjeneri hills in the rainy and winter season. You will enjoy greenery and trekking at that season most. It is a popular destination for trekking in Nashik
Distance from Nashik to Kalsubai is almost 21 KM
Bramhgiri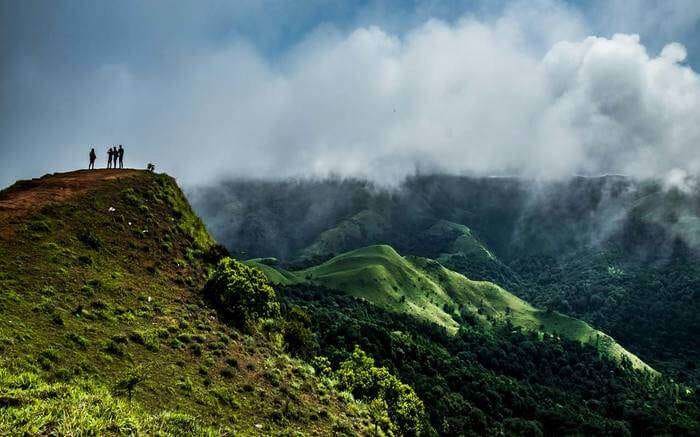 Bramhagiri is a mountain located in the Western Ghats of India, near the town of Trimbakeshwar in the Nashik district of Maharashtra. It is one of the most important peaks of the ghats, and is considered to be sacred by Hindus. It is here that the God Shiva is believed to have performed the 'Tandava' . The mountain and the adjoining area is an important pilgrimage site for Hindus, and it is home to the famous Trimbakeshwar Shiva Temple, which is one of the twelve Jyotirlinga temples in India. The mountain is also home to a variety of flora and fauna, and is a popular destination for trekking and rock climbing.
Distance from Nashik to Bramhgiri is almost 30 KM
Harihar Fort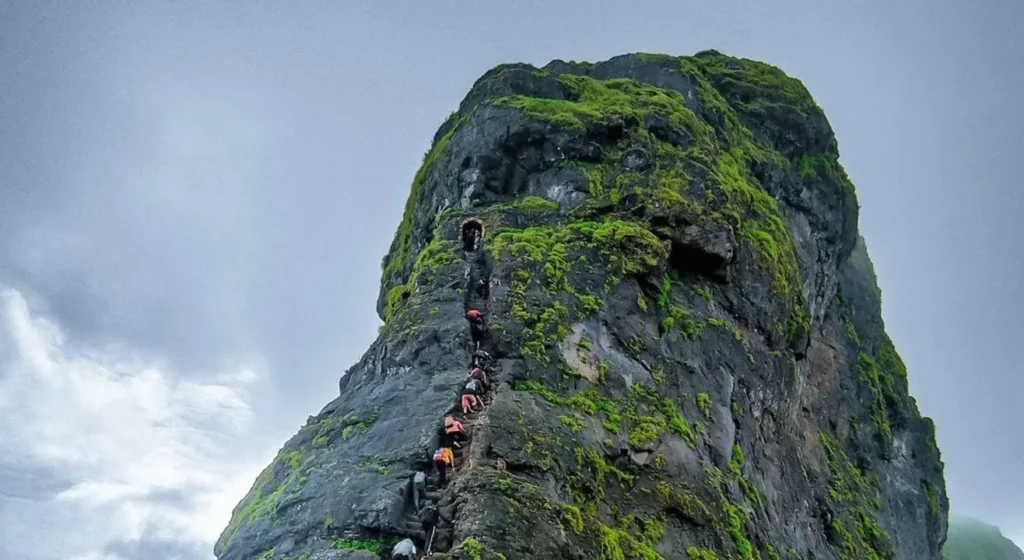 Harihar attracts daring trekkers with its 80 degrees steep slope of intrinsic, peculiar-shaped rock-cut steps. It is an ancient fort, believed to have been built by the King Harihar of the Yadava dynasty. The fort stands at an elevation of about 3,220 feet (980 m) above sea level and is known for its unique architecture. The fort is accessible through a steep climb of about 3.5 km (2.2 mi) and consists of several bastions, gates, and a temple dedicated to Lord Shiva also for Lord Hanuman and Nandi idols and a small pond at the fort. The fort offers views of the city of Nashik, the Godavari River, and the nearby mountain ranges.
The best time to do the Harihar Fort Trek is from June to January. Monsoon is the best season to see the lush green Sahyadris. All the fields in the villages and trails will be full of green grasses.
Distance from Nashik to Hariharfort is almost 40 KM
Kalsubai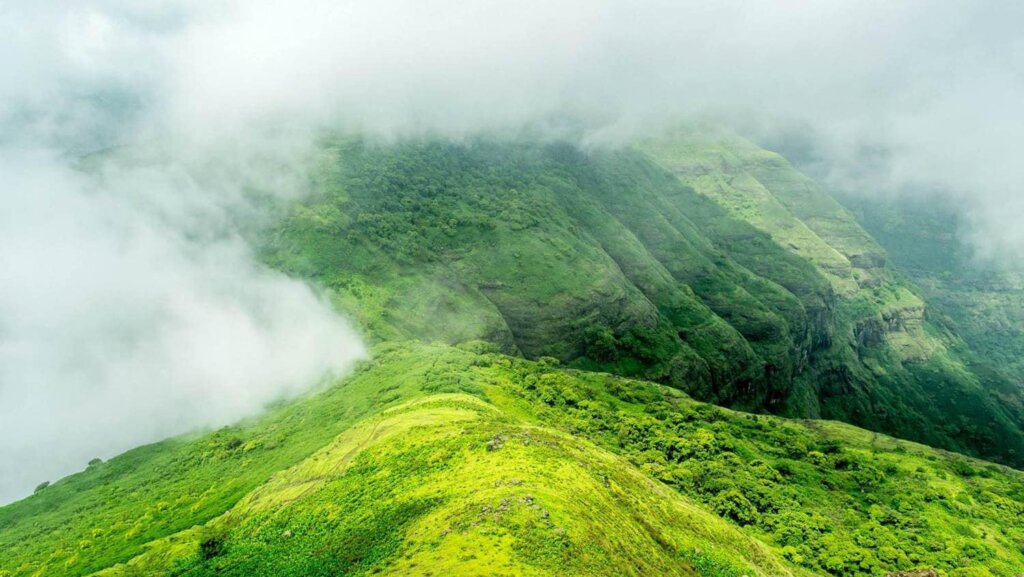 Kalsubai is the highest peak in the Sahyadri range of the Western Ghats, located near Igatpuri in Maharashtra, India. It is a popular trekking destination and is known for its breathtaking views of the surrounding landscape. The trek begins from the village of Bari, located at the foot of the mountain, and takes about 3-4 hours to reach the summit. Along the way you will pass through lush green forests and traverse steep inclines. The trek is considered to be moderate in difficulty, but can be quite challenging, especially during the monsoon season. Once at the top, you will be rewarded with spectacular panoramic views of the surrounding mountains. There are also several temples at the summit, making it an ideal destination for religious pilgrims as well.
Distance from Nashik to Kalsubai is almost 60 KM