Who does not like holding a camera and turning into a photographer during parties at home or while vacationing? We all love capturing pictures as there is no other way of saving our precious and pleasant memories. Keeping our social media handles updated often makes us want to capture pictures more like a professional. Either you are using a Bluetooth camera, your smartphone's camera, or a DSLR, some simple techniques can help you become to get the perfect shots 'for the gram'! Here are some amazing and easy techniques that will let you capture the moments in their entirety:
1. Get the Right Light:
Light plays a vital role in how your picture turns out to be. If the light is right, you are already halfway through capturing a good picture. Make sure that light is not too harsh but rather soft and doesn't cast shadows across the subject. Also, be considerate of the fact that light should not be coming from an unflattering angle but instead contribute to enhancing the subject. Consider moving the light source to adjust it to the correct angle if you are doing indoor photography and if it is outdoor, consider moving the camera to find the right angle. 
2. Take Some Time to capture the photos rightly:
No need to rush! Before you start immortalizing your precious memories, you must pay attention to everything rather than regretting afterward when the event is over. Make sure to check your camera's settings because if you are capturing pictures with a night mode on during the broad daylight, you will get awful results. 
People often say you do not check pictures the very moment when you capture them; it's utterly wrong. Once you click a photo or two, make sure to check them. It will help you identify the issues regarding light or camera settings. You can consider repositioning the subjects to get better shots. Taking your time and making sure that everything is right may sound like the simplest of all tips, but it always works like a charm and always saves your photos from getting ruined.
3. Use Tripod:
Well, a tripod has turned out to be a favorite tool for everyone who loves photography. Tripods are not just available for DSLR users, rather you can buy the ones that are designed for smartphones. What else can be better than eliminating the chance of getting blurred photos? Tripods let you take pictures with a touch of professionalism. All you need is to make sure that the angle is right, the setting is correct, and you are good to go. 
Moreover, if you are on a solo trip, you won't have to wait for another tourist to take your picture; you can get your photos done with your favorite backdrop as many as you want. Tripods improve stability and let you take sharper images that are otherwise not easy to be taken manually. If you ever forget to take your tripod on a trip, you are surely going to miss out on getting some really good pictures!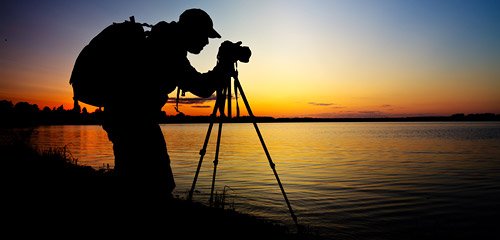 The Bottom Line:
Well, who hasn't heard the cliché that practice makes a man perfect? This is also applicable to all beginner photographers. The more you will work on improving skills, the more techniques you will be able to find that will help in boosting up your photography career. These simple yet beneficial tips are a must-know for every person aiming to ace at photography, either for sake of building a career or for making it a hobby. Photography is fun; it helps you appreciate the things around you and let you stop the time in the most beautiful way possible!